I have been wanting to take up cross stitch for some time now. I thought it would be a great craft to do while I watched tv on those lazy days. I found a bundle of embroidery floss at Goodwill for $3 and some fabric (don't know the name) on clearance at Joann for 97 cents. I found a great beginner
tutorial by Yarn Tree
online. It was a cute balloon image with some wording. I got to work this weekend and I was fairly pleased with it.
I changed the design up a little bit. I skipped the wording and I changed the design of the balloon strings. For some reason I couldn't get the hang of the backstitch, it kept knotting up, so I decided to use the X's instead. The tutorial was easy to follow, even for a beginner like me, and it's so simple to fix your mistakes as you go.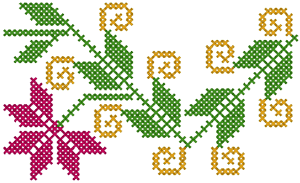 I am going to tackle this design next. Wouldn't it look beautiful on a pillow?